App-

Name- Madeleine Elizabeth Knowles.
Age- 17, finally.
Location- Stockton-on-Tees, North East England.

List as many bands/singers as you can think of that you enjoy- Good Charlotte, My Chemical Romance, Brand New, Taking Back Sunday, From first to Last, Atreyu, Avenged Sevenfold, Anti-flag, Rancid, Refused, Sick of it all, Sugarcult, Mest, New Found Glory, Blink 182, Yeah yeah yeahs, The Killers, NoFx, The Hitchers, Alkaline Trio, AFI, The Misfits, Straylight Run, The Spill canvas, 18 Visions, Goldfinger, Hole, Courtney Love, Motion City Soundtrack, The Distillers, Coheed and Cambria, Minor Threat, Homegrown, Billy Talent, No doubt, Dashboard Confessional, Further seems forever, Yellowcard...Phew, there's probably more, but I can't think of them.
List the bands/singers that you hate- I'm not a hater, I don't do hating.
Movies you enjoy- A Clockwork Orange, Amelie, Donnie Darko, SLC punk, Trainspotting, Big Fish, NBC, Edward Scissorhands, Velvet Goldmine, Meet Joe Black.
Movies you dont enjoy- Ummm. I hate crappy Hollywood horrors, and the adverts say that they're the scariest thing ever, but they're really not. And I pay money to see these, and always get cheated! Tut, I just want to be scared for once.
Favorite song- I have lots and lots. I have Moshi Moshi stuck in my head right now.
Favorite lyric- Ummm..."Maybe I'm just scared to face the things I feel, it's easier to walk away from everything"...
Do you like DDR?- Sorry, I don't know what it is. So I might like it. Haha.
What do you think about the Warped Tour?- I wish it came to Europe. It sucks that it's only in America, because I would kill to go on Warped.

What concerts have you been to before?- I've seen GC six times, Sugarcult, Mest twice, 36 crazyfists three times, 18 visions twice, My Chem, Taking Back Sunday, Straylight Run, The Spill Canvas, From first to last, I went to see Bowling for soup a very long time ago, back when I was fourteen, Umm...Never heard of it, Anti-Flag, InMe, LOTS AND LOTS of Local and british ska bands such as capdown, farse, columbus, jesse james. I'm also going to see Avenged sevenfold in a week and doing the Anti-flag tour next month. Planning to see AFI on tour in November if they come, and GC in August if they come. I looove seeing bands, There's more but I've forgottern.

What do you think about Abortion- I'm strongly pro-choice. It is absolutely the mother's right to abortion if she wants it.
Gay marriages- All for them. It's close-minded that goverments won't acknowlage gay couples wanting to get married. Really, you'd think people would be more tolerent of things like that.
Avril lavigne- She's fine for people who like her.

Make up a new trend- Pink hair. Everyone should have it. :)

What would you do if you had a big meeting and you were already running late, but on top of that you were so nervous, you barfed all over yourself/or your hands wer shakey and you spilled your coffee etc..- I'd try and sit and collect myself for a minute, then phone the company and tell them I had an emergency in which a child I was taking care of was ill, and I had to find alternative care for them before I could arrive. Haha.

How long have you liked GC- Three years, or there abouts.

Whos your favorite Member- Benchamin. He's lovely.

Play any instruments?- I can play the piano a little, but that's not cool. Haha. Um, not really.

Type a short paragraph about yourself- I'm strange. All my friends say I'm insane, but I'm not really. I go to college and take theology, philosophy and ethics, Media, english literature and language. I love music, it's my life. Me and my friend travel around the country to see bands, and that's what all my work wages go on. I work in a home with people for alzheimers syndrome and it's not very pleasant. I love the colour pink, and I love piercings. I like to look feminine and wear lots of makeup.

Amuse me, give me a joke or a funny picture- Sticking to the GC theme, I think this is pretty amusing.

Joel is hilarious. I loves him.

Last but not least, Pics please! If you dont have any, chances of you getting in will go down but very slightly, but the more pics the better!!
I'm not the prettiest girl, but I am a camera whore. Haha.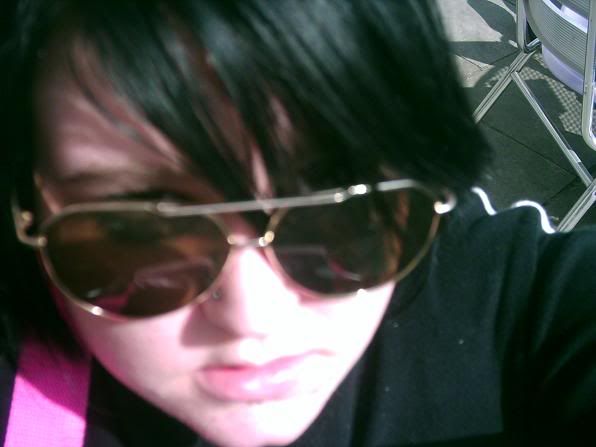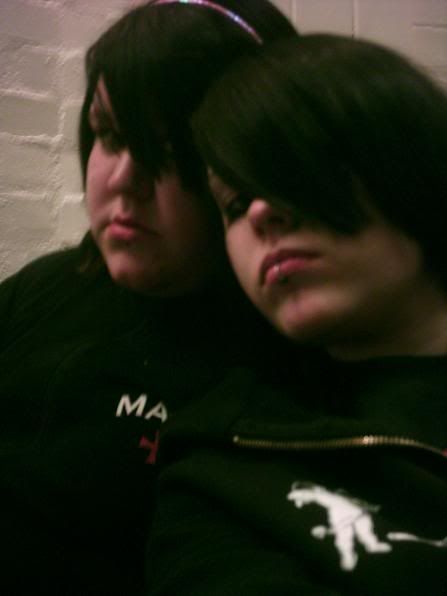 Me and Looci.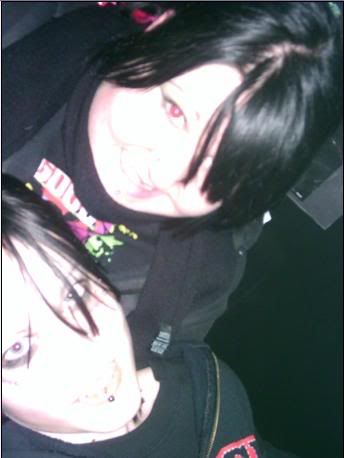 Me and Looci again.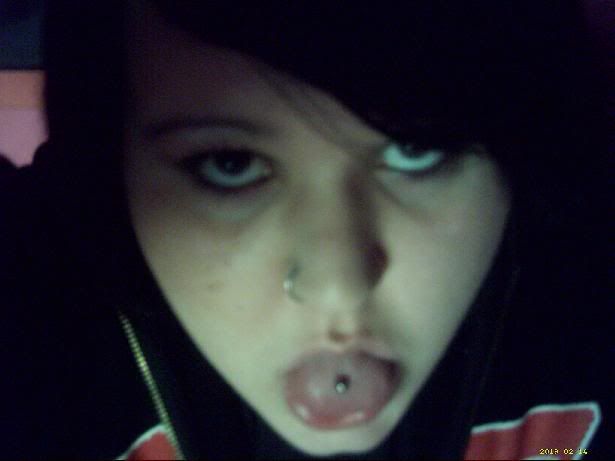 God, I am lame.